Reinstatement Success with Amazon Sellers Lawyer
Rosenbaum & Segall, PC, the law firm behind Amazon Sellers Lawyer, is an international group working to defend the rights of sellers on Amazon and other online platforms.
The firm helps private label owners protect themselves and suspended Amazon sellers with reinstatement.
CJ Rosenbaum is often spotted at conferences as a keynote speaker on sellers' rights. He has been practicing law for over 20 years and has authored 6 books in this field.
Appeals for Amazon Seller Suspensions
Reinstatement Success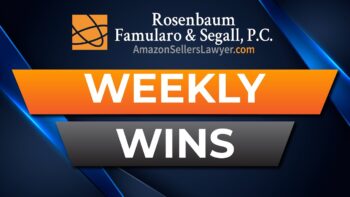 Suspended sellers need help drafting Plans of Action, as Amazon often refuses to provide the reason why the suspension occurred.
Our team of lawyers & college educated paralegals focus on analyzing suspended Amazon seller accounts & identifying the issues behind it.


[brb_collection id="28997"]