Creating an Effective Plan of Action to Reinstate Your Amazon Seller Account
So what's old is new again. In today's video, I'm going to be talking about how we write plans of action for Amazon sellers all over the world every week, winning reinstatements of your accounts, winning reinstatements of your top selling listings.
Walking across me right now behind the camera is Kerry. She's one of the brilliant members of our team. She not only wins reinstatements practically every day, she also trains our people on how they can win reinstatements for you.
So here it is, here is the magic way to write plans of action:
Number one, first section, root cause. Why is it that the consumer or Amazon perceived your sales to be problematic?
Think about it. Use Amazon's language, do a deep dive, figure out what is the root cause, and identify that in the first section of your plan of action.
Section two, your immediate corrective action.
What is it that you did as an Amazon seller immediately upon learning that there was some issue, whether it was valid or not, to make the consumer happier? That's your second section.
Section number three (this is the part that really requires independent thought), thinking about your business, identifying how you can be a better Amazon seller, thinking about how you can make Amazon's consumer experience even better than it was last week. You put that in the third section, systemic changes to your business or long-term changes.
Sometimes that involves increasing the automation of your business, taking it out of the realm of human error. Sometimes it involves hiring more human beings, or increasing the training you're going to do, or identifying specific functions of particular people. And like in any persuasive argument, the truth is in the detail.
So let's say for example, you're going to hire a person to do a specific role. Okay? Put the job description in your plan of action. Or if you've hired somebody, put their name in the plan of action. What is their role? What is their hire date? What are they earning? Put the details in your plan of action. So that is Plan of Action Writing 101.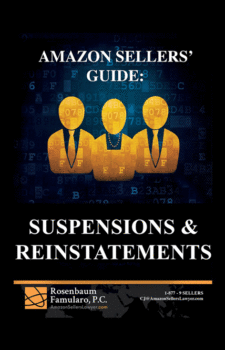 If you would like to get the world's greatest book when it comes to writing plans of action, by donating a minimum of $1 to the Ty Louis Campbell Foundation, you can download a copy of our book, and then you'll know how we win reinstatements, how we do such an excellent job.
If you want us to write your plan of action to reinstate your Amazon seller account:
CALL 1-877-9-SELLER FOR A FREE CONSULTATION