Amazon's Review System is Broken
Amazon's feedback system helps the company make decisions, promote specific products and decide whether or not to suspend users – but is the system flawed at its core?
Early this month, the company suspended a huge amount of consumer accounts without warning. Amazon followed up with an email, informing these users that they were in direct violation of Amazon's code of conduct because of a breach in their review policy.
An Amazon spokesperson told Business Insider:
"Amazon has taken action against bad actors and those who have violated our community rules. If any customers believe their account has been closed in error, we encourage them to contact us directly so we can review their account and take appropriate action."
These so-called "bad actors" that Amazon is trying to weed out are sellers, disguising themselves as consumers in an attempt to give good reviews on a product, as Anders Jorstad previously discussed on the Amazon Sellers' Lawyer blog.
Typical consumers glance at product reviews to see a broad rating between one and five stars, but typically do not spend time reading reviews themselves.
Sellers have taken advantage of that inattentiveness, making fake accounts in order to post broad positive reviews of themselves or negative reviews of their competitors.
Gary Ward, a managing attorney with Rosenbaum Famularo, P.C., the law firm behind Amazon Sellers' Lawyer, calls this review manipulation a "bad idea."
"Review manipulation suspensions are increasing," Ward said. "It's a clear suspension risk, which in my opinion is not worth that risk at all."
What do Fake Reviews Look Like?
Spotting fake accounts on Amazon can be tough due to the sheer amount of accounts and reviews on different products, so knowing what to look for is important.
Jake Swearingen, a writer for NY Mag, took a look into Amazon's electronics section and found an obvious example of fake reviews. He found suspicious activity based on the feedback differences in two seemingly identical products.
This photo provided by Swearingen shows an example of an off-brand iPhone headphone adapter 3-pack with a one-star rating based on 76 reviews: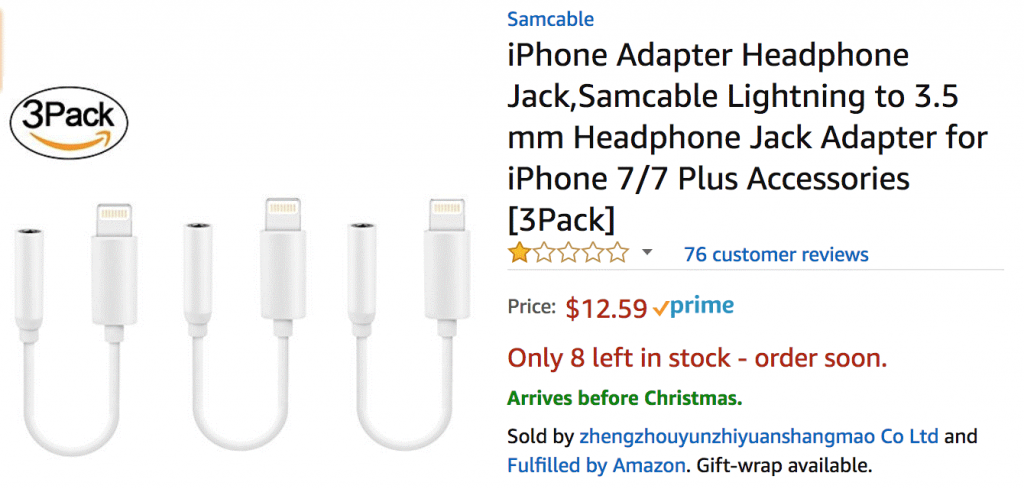 While this photo shows an identical product that costs just sixty cents less with a 4.6-star rating based on 673 reviews: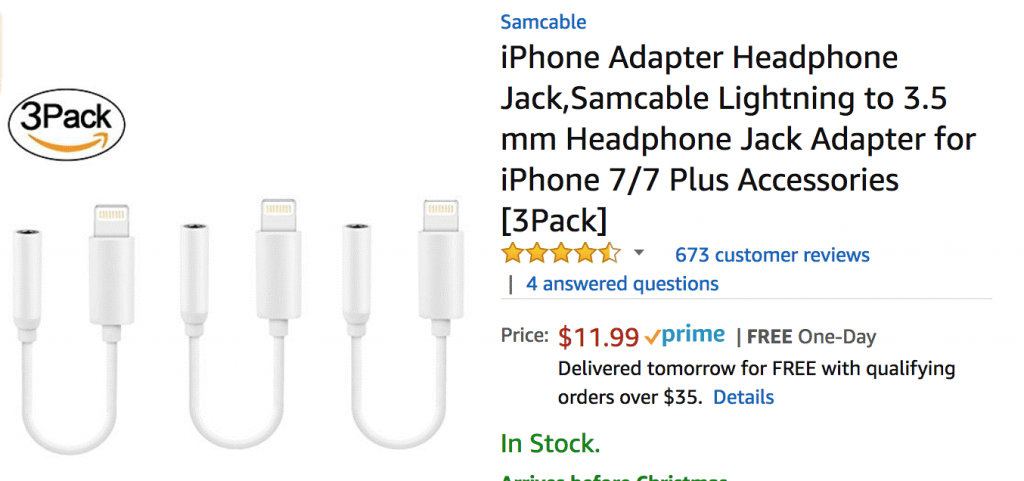 Swearingen found that of the 673 reviews on the product with a 4.6-star rating, 654 rated the product five-stars, with 19 of them being one-star reviews with no variance in between.
While that lack of star variety is suspicious on its own, a closer look at the five-star reviews revealed that none of the feedback was accompanied by a "Verified Purchase" tag – Amazon's way of telling consumers that the reviewer has actually purchased the item they are reviewing. Conversely, every one-star review was accompanied by a "Verified Purchase" tag.
Here is an example of what the negative reviews looked like: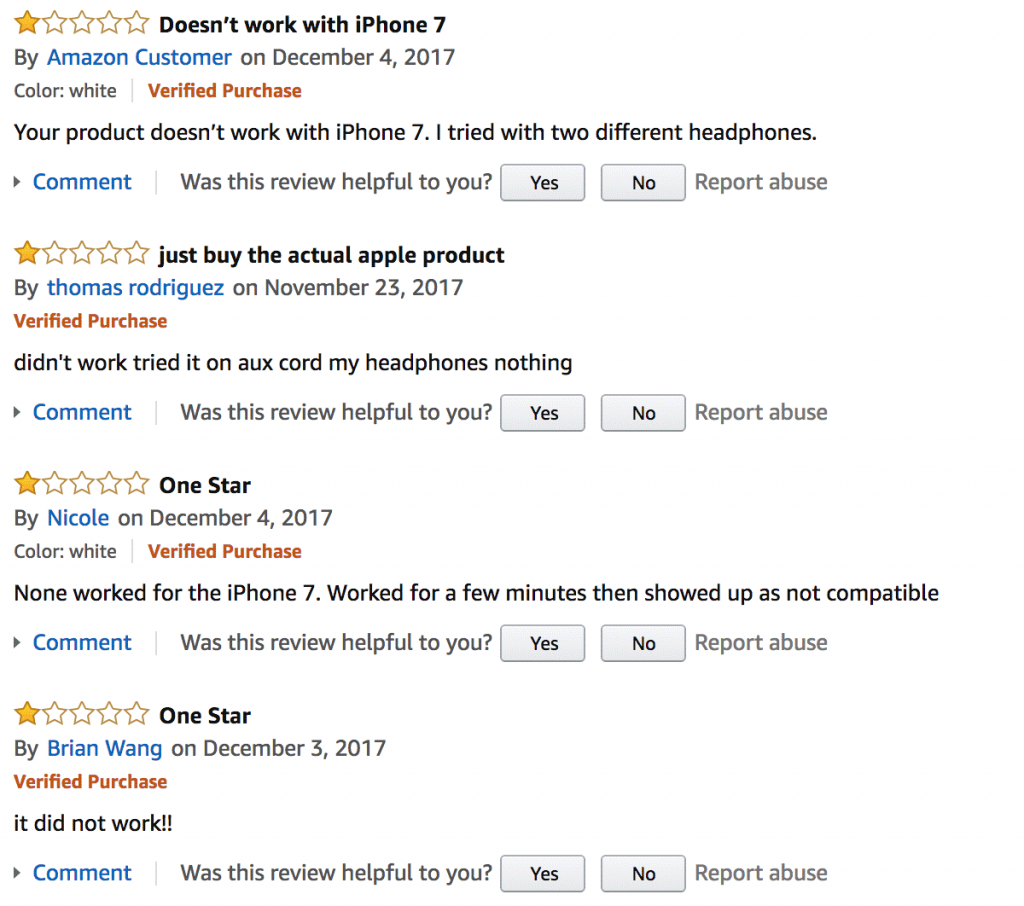 These negative reviews are very short, concise and informal, while they are evidently verified as having purchased the product.
Meanwhile, the positive reviews tended to look more like these examples: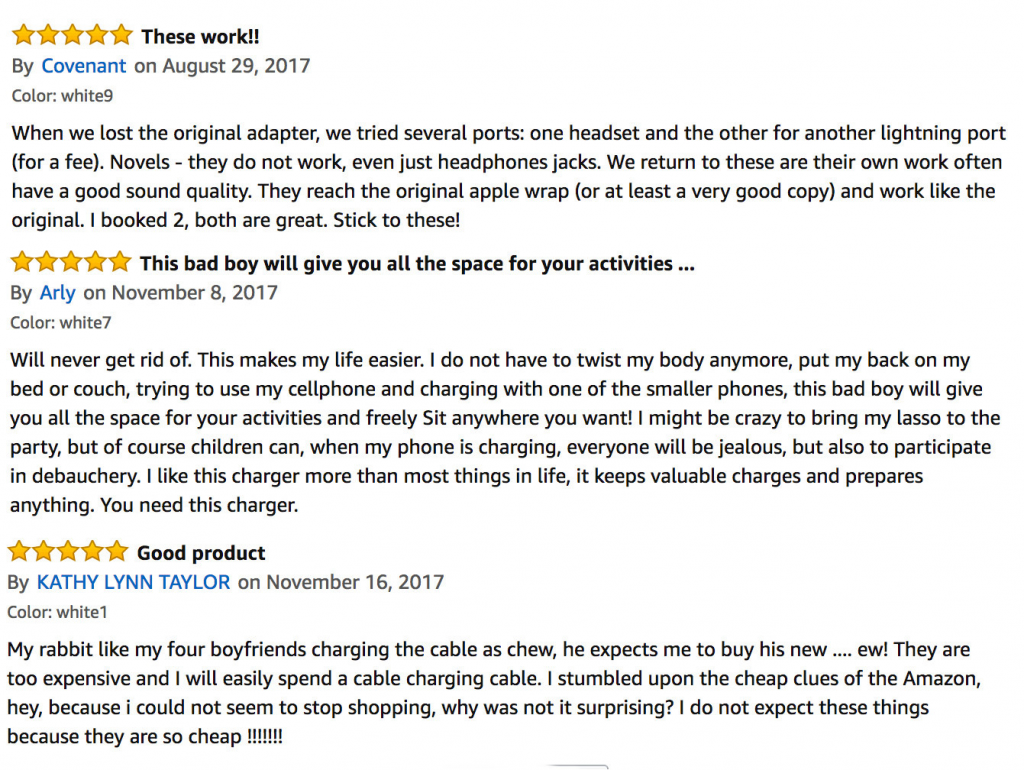 These reviews obviously do not have "Verified" tags and are long, confusing and completely unnecessary. It is relatively uncommon for consumers to take significant time out of their day to write positive reviews, especially ones that are as enthusiastic as those in the example.
As Jorstad points out in his previous article on the topic:
"Most customers only leave reviews when they have a complaint about the seller or product. Positive feedbacks are rare, which is why it becomes fishy when a seller is getting a lot of positive reviews."
Amazon's Review System – Avoiding False Feedback
To avoid being swindled by false reviews or having to scan through fake reviews to determine their legitimacy, one can turn to websites like Fakespot or ReviewMeta.
These websites collect public feedback and use algorithms to determine whether a review is legitimate or not.
The 4.6-star cable from Swearingen's experiment received an "F" grade from Fakespot, with the algorithm deducing that not a single positive review was trustworthy.
An "F" grade from Fakespot is considered an obvious red flag to a buyer, while an "A" grade means that consumers can trust the products feedback.
Sellers should be advised to look on Fakespot of ReviewMeta to determine whether or not their products have positive grades, especially if they feel that a competitor has posted fake negative feedback about their product.
"About 40 percent of reviews we see on Amazon are unreliable," Ming Ooi, co-creator of Fakespot, said. "[Fakespot] will take every single review that's been left for that product and our search engine will also get every single reviewer and their review background."
If 40 percent of reviews are fake, Amazon has a massive problem on their hands regarding review authenticity.
"Verified Purchase" Manipulation
While a "Verified Purchase" tag next to a review is a comfort to a customer knowing that the person giving the feedback has purchased the item, Amazon sellers are finding creative ways to cheat the system.
This scheme that sellers have come up with involves creating an account, purchasing one of their products and having it shipped to a random address.
While their money goes right back into their own pocket, they receive the "Verified" tag and can now put together a review that consumers may think is legitimate.
The flaw in this equation is, where do all those packages go?
Sellers cannot simply send these packages to their own homes, nor can they have multiple accounts make these purchases and send them to the same home. Amazon may have a lot on their plate but they would be able to notice that relatively easily.
With that said, sellers have turned to sending packages to random places, with unsuspecting receivers wondering what is going on.
Many Amazon customers have reported receiving random products that they never ordered, which has driven the company to try to get rid of the fake accounts cheating the system, while potentially suspending or penalizing the sellers who are reaping the benefits from the false reviews.
Angela Smith, an affected Amazon customer, told Business Insider:
"I have gotten packages I have not ordered. I keep getting the same phone case over and over for the past four months without ordering them at all."
Amazon adamantly denied that these cases were related to "Verified Purchase," issuing a company statement that said:
"We have found very few reviews written on these shipments and we remove any reviews that we do find immediately. Only the sender can write a verified purchase review and still must meet the minimum requirements. The sender cannot write a review on behalf of the receiver. Our review detection systems are trained to catch this type of behavior and we will continue our ongoing efforts to detect and prevent abuse."
While Amazon's review system efforts to "detect and prevent abuse" are clear, it has become obvious that the there are flaws in the system that should drive the company to look to outside sources such as Fakespot and ReviewMeta to help them find guilty sellers.
Participating in the creation of fake reviews is unethical and a form of fraud, so regardless of whether your competitors are playing by the rules or not, Amazon sellers should stay away from false feedback and monitor their product grades on Fakespot as often as possible.
---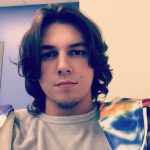 Cyril Zackary Penn IV is a soon-to-be graduate of Hofstra University with a Journalism degree from Sonoma, California. He started his own blog in high school and has been writing about sports, news and entertainment ever since. He's currently a staff writer at AXcess Baseball as well as the Hofstra Chronicle and formerly was the Sports Editor at Man of the Hour Magazine.
---