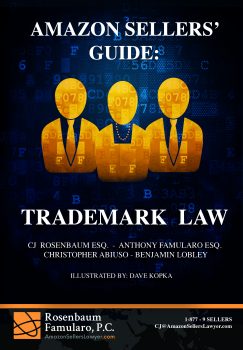 Amazon Sellers' Guide: Trademark Law
By: CJ Rosenbaum Esq., Anthony Famularo Esq., Christopher Abiuso, and Benjamin Lobley
Chapter 8: Protecting Trademarks Online ……….. 96
I. Introduction ……….. 96
II. Vigilance and Policing of your mark ……….. 96
III. The Legal Process ……….. 100
IV. Outcomes ……….. 101
V. Conclusion ……….. 108
Trademark Law: Chapter 8 – Protecting Your Trademark On & Offline
I.  Introduction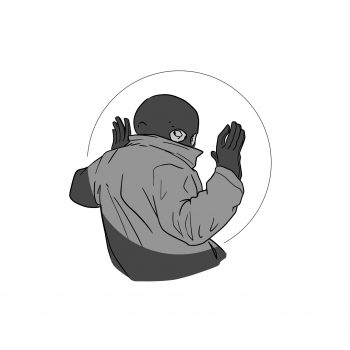 This last and final chapter will serve as a rudimentary overview of how a seller can best police his or her brand and ensure that any infringement which occurs can be reliably and timely caught. This chapter is a primer on the process, costs, and possible rewards of pursuing a lawsuit against an infringer.
II.  Vigilant Policing of Your Mark
There are many ways sellers can monitor their brands and marks.
A simple method of monitoring marks is via Google. [1]  Google Alerts is a free service which provides automated monitoring of results that match or fall within parameters specified by the user. [2]  Google sends Alerts to the user's inbox every time these results are picked up by Google at whatever frequency the user dictates. [3]  As of the publishing of this book, Google does not send alerts from social media or from web sites or pages on the web that Google does not index. [4]  However, the ease with which Google Alerts and the lack of any cost makes Google Alerts a good place for smaller brands to start their brand monitoring.
Google Alerts can be set up and activated at google.com/alerts and then typing in whatever term the user desires to have a notification sent to them. [5]  A carwash solution seller that obtained a mark for "Red Banana," for example, might want to specify that Google send alerts regarding "red banana," "red banana carwash," "yellow banana carwash," or "banana car soap."
After defining the search parameters, the seller selects "Show Options" to tailor the Alerts to his or her preferences.[6]  The seller can specify the frequency of the notifications, the language in which these notifications should be, the types of websites which should be included (e.g. Amazon, Etsy, other internet retailers), regions within which the search results originate, and the email address where notifications should be sent.[7]
Sellers concerned about trademark infringers may also routinely examine the Gazette. The Gazette is the printed collection of all published, renewed, and cancelled trademark applications.[8] Published every Tuesday.  The Gazette is available in an electronic format and is completely free.[9]  Routine monthly checks of the Gazette will help Sellers who own marks stay abreast of possible infringers.  The Gazette is the same publication USPTO Examiners consult before approving a trademark and in which an application will be published for a full 30 days before full registration.  The Gazette has a significant number of marks in each issue…sometimes in excess of 16,000 marks.
The USPTO also has a searchable database.  The Trademark Electronic Search System ("TESS") will return a list of results comprising of all trademarks or trademark applications known to the USPTO as relating to the search query.[10]  Used in conjunction with Google Alerts, TESS offers an instantaneous review of all USPTO-known trademarks or trademark applications and expands the search for infringing marks beyond Google.[11]
Searching for trademarks on the TESS is simple and straight forward.  A quick Google search of the term "TESS" will return, as the first result, a link to the database itself, which is offered free of charge and requires no membership or email address to use.  From there, one must select one of three search options: a "Basic Word Mark Search" is useful for focusing solely on wordmarks; the "Word and/or Design Mark Search (Structured)" can be used for searching both word and design mark (i.e. trade dress); and the "Word and/or Design Mark Search (Free Form)" is similar to the previous option in that it allows one to search for both word and design marks, but with the added ability to use Boolean search terms to expand the results.[12]  If utilized on a routine basis, TESS checks may prove essential to guarding against trademark infringement.
III.  The Legal Process
If a trademark infringer is detected, what can be done? The answer depends on the platform the seller is operating on, as well as in what specific ways the trademark was infringed upon.
Anthony's Advice: It should be stressed again that, after you detect the presence of trademark infringement, it is imperative that you retain the services of a practiced trademark attorney. Navigating the waters of the legal process is treacherous without the proper knowledge of how to avoid its associated pitfalls and quagmires.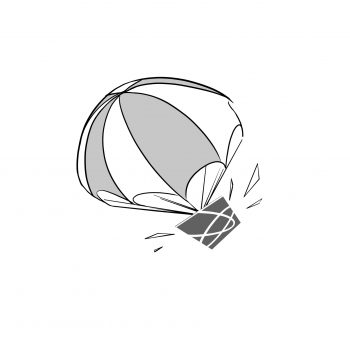 After determining the nature of the infringement, the seller, through his or her attorney, will generally send a "Cease and Desist" letter.  A Cease and Desist letter requests that the infringer refrain from further violating intellectual property rights. Generally, the letter notifies the infringer that if the offending products, bearing the infringing mark, are not removed from the view of consumers, further legal or other action may follow.
If the Seller is an Amazon merchant who has fallen victim to infringement at the hands of another Amazon merchant, the Seller's attorney may file a takedown request with Amazon. This takedown request will be considered by Amazon and may be either granted.
When Amazon complies with the takedown request, infringers will often resume selling the infringing product under a different Amazon account.
If financially feasible, Sellers who suffer infringement can seek redress in court.
IV.  Outcomes
When a court has determined that trademark infringement has occurred: (1) a seller could be awarded monetary damages or (2) a seller could be awarded injunctive relief.  An injunction is far more common for trademark infringement cases since it is hard to equate the amount of monetary loss incurred on a seller due to the infringement.
Damages awarded for a trademark infringement action include all injuries and loss of profits to a seller's business that are proximately caused by the infringer's actions.[13]  The seller only needs to prove they suffered actual harm as a result of the infringement; they do not need to prove the exact amount of damages they suffered.  The court has the power to assess the actual damages under their own discretion based on the circumstances of the case.[14]  If the damages are burdensome or unavailable, the court will award what they find just, whether it be monetary or injunctive relief.
The Lanham Act allows sellers to recover lost profits or any damages from trademark infringement.  The Act lists five types of monetary relief for trademark owners to compensate infringement: (1) an accounting of an infringer's profits; (2) the actual damages the trademark owner sustained; (3) a reasonable royalty representing a measure of the trademark owner's damages; (4) attorney's fees in exceptional cases; and (5) costs.[15]  There is a special monetary remedy for cases involving counterfeit goods, where the court awards treble damages, a variant of damages which triple the amount of actual or compensatory damages, or profits earned from sale of the counterfeit goods, whichever is higher.[16]  However, prevailing in a trademark infringement case does not guarantee monetary relief for a seller.  Monetary damages are generally rare, and injunctions are the most common form of relief for Lanham Act cases.[17]  In order to be awarded monetary damages, the Seller must prove there was customer confusion that caused economic loss or that the infringer was unjustly enriched.
Customer confusion is established via either (1) evidence of diversion of sales or (2) by presenting survey results showing actual customer confusion with the mark's owner.[18]
For example, a football helmet manufacturer was denied monetary damages from infringement on a mount that connects the face mask to the helmet.  The Court determined this because the manufacturing company did not submit any affidavits or evidence to established customer confusion.[19]
CJ's Side Note: It is important to not rely on being awarded monetary damages when seeking action against trademark infringers. Statistics show only 5.5% of all Lanham Act cases decided between 1947 and 2005 obtained any damages at all. [20]  This is because it can be hard to prove consumer confusion and to make the connection between that confusion and economic loss for your company.  Injunctions are far more common and a more realistic goal when taking action against trademark infringers.
A preliminary injunction is granted to keep an infringer from continuing to infringe on someone's trademark while the case in ongoing.  Under the Lanham Act, a Seller seeking a preliminary injunction must establish: (1) the Seller is likely to suffer irreparable harm in absence of preliminary relief; (2) the Seller is likely to succeed on the merits; (3) the seller is likely to suffer irreparable harm in absence of preliminary relief; (4) the injunction is in public interest; and (5) that the balance of equities tips in the Seller's favor.[21]  A preliminary injunction will not be granted unless the Seller clearly establishes all of these elements.  When deciding whether to grant a preliminary injunction, the court will consider the type of injury the Seller would suffer without one.
Anthony's Breakdown: A preliminary injunction will not be granted if (1) the infringer has discontinued their use of the mark and does not intend to resume use at any point or (2) if the Seller laches or delays bringing action after becoming aware of the infringer's use.[22]  Therefore, make sure you bring action quickly after learning of an infringer's use of your mark.
When determining whether to grant a permanent injunction, the Court must determine whether equitable relief is appropriate.[23]  The Lanham Act allows for a permanent injunction where: (1) the seller has or will suffer an irreparable injury; (2) remedies at law, such as monetary damages, are inadequate to compensate the injury; (3) a remedy in equity is warranted because of the balance of the hardships between the seller and the infringer; and (4) the public interest would not be harmed if a permanent injunction was granted.[24]
A trademark is an extremely important and necessary tool for protecting Sellers' brands.  An important for Sellers developing their brand is registering their trademark.  Without registering their trademarks, Sellers are susceptible to economic loss due other Seller infringing on their mark and manipulating market confusion and costing Sellers money.
---
Trademark Law: Chapter 8
[1] Trademark 101: Monitoring Strategies You Can Implement, SecureYourTrademark.com (last visited July 10, 2018), https://secureyourtrademark.com/blog/trademark-101-monitoring-strategies-can-implement.
[2] Patrick Whatman, How to Set Up Google Alerts and Go Even Further, Mention (last viewed July 10, 2018), https://mention.com/blog/how-to-set-up-google-alerts.
[3] Id.
[4] Id.
[5] Jerri Collins, Google Alerts: What They Are, How to Make One, Lifewire (May 7, 2018), https://www.lifewire.com/google-alerts-3481816.
[6] Id.
[7] Id.
[8] Trademark Official Gazette, USPTO (last visited July 10, 2018), https://www.uspto.gov/learning-and-resources/official-gazette/trademark-official-gazette-tmog.
[9] Id.
[10] Id.
[11] Id.
[12] Trademark Electronic Search System (TESS), USPTO (last visited July 10, 2018), http://tmsearch.uspto.gov/bin/gate.exe?f=tess&state=4809:3n12zy.1.1.
[13] Griffith, supra note 68, § 367.
[14] Id.
[15] 15 U.S.C. § 1117(a) (2016).
[16] 15 U.S.C. § 1117(b).
[17] Kenneth L. Port, Trademark Extortion: The End of Trademark Law, 65 Wash. & Lee. L Rev., 585, 622 (2008).
[18] Schutt Mfg. Co. v. Riddell, Inc., 673 F.2d 202, 206-07 (7th Cir. 1982).
[19] Id. at 207.
[20] Port, supra note 248, at 622.
[21] Griffith, supra note 68, § 335; see also Peoples Federal Sav. Bank v. People's United Bank, 672 F.3d 1 (1st Cir. 2012); Pom Wonderful LLC v. Hubbard, 775 F.3d 1118 (9th Cir. 2014); Derma Pen, LLC v. 4EverYoung Ltc., 773 F.3d 1117 (10th Cir. 2014); Express Franchise Services, L.P. v. Impact Outsourcing Solutions Inc., 244 F.Supp.3d 1368 (N.D. Ga. 2017).
[22] Griffith, supra note 68, § 345.
[23] La Quinta Worldwide LLC v. Q.R.T.M., S.A. de C.V., 762 F.3d 867, 880 (9th Cir. 2014).
[24] Griffith, supra note 68, § 346.