Amazon's Terms of Service for Sellers: Paragraph 18: Changes to Expedited Arbitration
One of the most important features of the arbitration process is that it's supposed to be fast and efficient.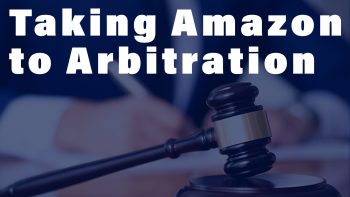 Both cost-wise and time-wise for sellers. Amazon's new contract is trying to take that away from the arbitration process. What I mean by that is there's something called expedited arbitration. Not only is the arbitration generally supposed to be faster and cheaper under the rules with the American arbitration association, which is the company that Amazon chose, but they also created this thing for an expedited process. We're going to be talking about how Amazon is trying to change the rules of the company that Amazon chose.
The first is that all claims for less than $75000 under the AAA's actual rules are supposed to be adjudicated under the expedited procedures, which normally means that you're entitled to a hearing within 30 days of the arbitrator appointment. It also saves sellers a boatload of money because the arbitrators are stuck at a flat fee, which is $600 per side rather than billing the sellers and Amazon by the hour. Amazon's limiting those two features of the expedited rules in two ways.
One is that instead of having claims up to $75,000 per the expedited procedures, Amazon is limiting that claim amount to $50,000. It's going to drive up the costs tremendously where it may or may not be worthwhile to seek between $50 and $75,000, you might as well go higher than that. Amazon's new contract takes away the feature of the rule and makes it so that hearings are within 90 days of the arbitrator appointment, which literally makes the process three times as long.
Our prior experience indicates that Amazon didn't permit sellers to sell or change ownership of their account, but the new assignment provision has a very loose definition of the word "affiliate" and says that Amazon will allow, if you get their written consent, sellers to assign the agreement to any of their affiliates. It says,
"With respect to any entity, any other entity that directly or indirectly controls or is controlled by or is under common control with that entity."
So the assignment provision we think is actually very good for sellers. However, Amazon still has very strong unilateral provisions in its contract where you can sell the business and that the buyer can get shut down the next day. Paragraph 18 is the choice of law, dispute resolution, and the assignment provisions. It also has an interesting language that was in the prior BSA that's been omitted from this new drafted version. The provision that's been left out says,
"Amazon's failure to enforce strict performance of any provision will not constitute a waiver of our right to enforce such provision or any other provision subsequently."
What that means is if Amazon doesn't give you notice that you're doing something wrong under the old BSA, that means they could still suspend you without notice. The newest BSA took this language out, which kind of goes with the new termination paragraph that says that Amazon's going to give sellers a right to appeal within 7 days of notice of an issue with their account.
Amazon does say they're going to give you 30 days' notice. That was the big splash in the news. There are 3 huge loopholes that Amazon has reserved for itself. Amazon has all the rights, sellers have practically nothing, and we use that one-sidedness to argue to arbitrators that portions of the contract should not be enforced against the seller because it's so terribly unfair.
What is the new term of interest that Amazon has put in? It says,
"Amazon retains the right to immediately halt any of your transactions, prevent or restrict access to the services, or take any other action to restrict access to or availability of any listing in inappropriate categories, any unlawful items, or any other items prohibited by applicable program policies."
So to me, Amazon made a new termination paragraph and then in paragraph 18 all the way down at the bottom, they had this language saying, "Oh, by the way, we can do whatever we want to you."
If you've been suspended on Amazon or have questions about the new TOS, call us for a free consultation: 1-877-9-SELLER.
Make sure you watch all of our videos regarding the loopholes Amazon created in the new TOS.